Ohio House Washing: Gahanna's Premier Pressure Washing Services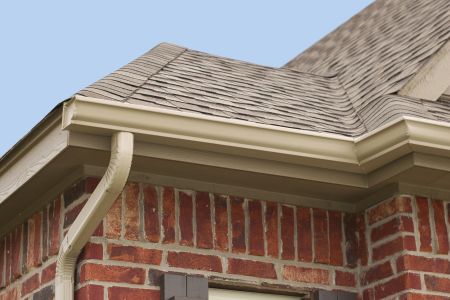 The name Gahanna is derived from a Native American word for three creeks joining into one and the City of Gahanna's Official Seal refers to this confluence of three creeks with the inscription "Three In One". Water has always been important to Gahanna and pressure washing uses the natural cleansing power of highly pressurized water to keep Gahanna's homes at their optimal appearance. And we continue the three in one theme with the one name you need to know for exterior cleaning: Ohio House Washing, the local pressure washing company offering budget-friendly prices on the top three pressure washing and soft washing services in Gahanna:
High Pressure Surface Cleaning - We remove stains from driveways, walkways, and patios. Our exterior cleaning service is the best in town!
Exterior House Wash - We use a low pressure cleaning system to gently apply cleaning agents that remove dirt, algae, rust stains and disinfect your home's exterior.
Roof Cleaning - We use roof manufacturer specific chemicals to remove all biological stains. With our special soft wash system, mold, stains, and algae do not stand a chance!
Gahanna was founded along the Big Walnut Creek in 1849 by John Clark and he named his property the Gahanna Plantation, from which the City of Gahanna derives its name. The city motto, "Live, work, play" also derives from the three in one meaning of the word "Gahanna," and located only eight miles from downtown Columbus and minutes away from the Columbus International Airport, Gahanna is a winning "triple threat" location for life, business, and leisure.
Ohio House Washing is a triple threat to dirt, mold, and stains on your Gahanna home with pressure washing, house washing, and roof cleaning services you can trust for quality, value, and results you'll brag about.
Top-Rated Pressure Washing for Top-Rated Gahanna
Named one of the 'Best Hometowns' by Ohio Magazine, Gahanna boasts over 750 acres of parkland, vibrant neighborhoods, and natural beauty. Rich in heritage and diversity, Gahanna offers a neighborly environment, unique attractions, excellent restaurants and accommodations, eclectic shopping destinations, and expansive green space. Pressure washing harnesses one of nature's most powerful forces, water, and focuses it with pinpoint accuracy to destroy dirt and leave your exteriors sparkling. You can trust the pressure washing pros at Ohio House Washing to keep your house looking its best, in one of Ohio's best hometowns.
Your Trusted House Washing Experts in Gahanna
Cleaning the exterior surfaces of your home can be a tedious task. Compared to regular home cleaning, house washing requires extra time and energy to make every area spotless. Save yourself from all the effort and let Ohio House Washing take over. We offer a comprehensive range of home sanitation and exterior cleaning services in Gahanna, Ohio and all surrounding areas, to wash away dirt and stains accumulating on your sidewalk, driveway, roof, and gutter. From top to bottom, our team can give your home's exterior surfaces a thorough cleaning through soft wash. If you love your house, show it, with house washing TLC from Ohio House Washing.
Reviews & Testimonials on Ohio House Washing in Gahanna, Ohio
There are currently no reviews or testimonials for Gahanna, Ohio. Check back soon!
Articles & Tips
Keeping a Roof Over Your Head

You probably don't think about your roof a whole lot, but it is probably the most functional part of your home, and when there are problems, they're likely to be expensive ones. You'll want to get th […]

Factors to Consider When Buying a Pressure Washing Machine

Shopping for a pressure washing machine presents an almost infinite number of options and choices. A Google search for "pressure washing machine" will give you over 100,000,000 results. It's downrigh […]
Schedule a Free Quote Today With the Most Trusted Pressure Washing Company in the Columbus Area