Roof Cleaning for Your Columbus Home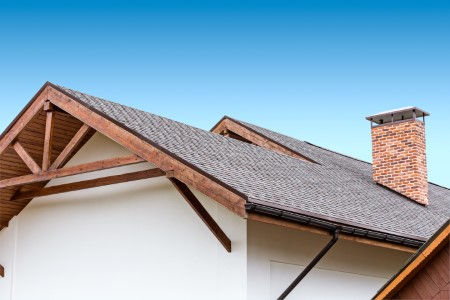 Professional roof cleaning eradicates harmful algae and bacteria and protects against rot-causing animal droppings and caustic organisms that can damage your Columbus home's shingles, allow water to penetrate, and eat-away at your expensive roof. Your house's roof isn't just there for display, it protects your home from external damage and adds an extra layer of security. Since they serve as a shield against the elements, it's common for roofs to get damaged by the growth of various fungi and plants. Ohio House Washing is the top-rated provider of pressure washing in Columbus, and we're also the area's most experienced roof cleaning specialists.
Watch for signs that your roof is due for a cleaning and call for the most-trusted soft wash roof cleaning pros in the Columbus area.
If you notice black streaks all across the shingles, it's an indication of algae growth. The organism thrives in hot temperatures and humidity, spreading out on the surfaces as it grows. Excessive algae growth not only feeds off the moisture but also makes the shingles on your roof unstable. Thus, your roof suffers not just visually with the appearance of black streaks but also sustains structural damage.
Lichen is another organism that affects the appearance of your roof. The slow-growing plant creates a crusty layer on the roof and reaches deep within the roofing composition to form stains and pock-marks. Roof moss also causes considerable damage to the roof's structure and appearance, causing it to deteriorate.
Such unwanted growths can be treated through professional roof cleaning and inspection. Cleaning experts apply a carefully prepared chemical mixture onto the roofing surfaces that kills these organisms and prevents them from growing further. Having your roof professionally cleaned also enhances the curb appeal of your home, making it appear more beautiful.
We're always up-to-date on the latest developments, and we are trained and proficient in the latest soft washing technology, and always looking for ways to better clean and protect our neighbors' roofs. We're proud of our many 5-star reviews and our spotless reputation as the most trusted team of local pressure washing professionals when it comes to roof cleaning, gutter cleaning, or any fragile or damage-prone materials requiring soft washing with no-pressure washing, or low-pressure washing.
Why You Need Soft Washing for Your Roof
Asphalt, wood and clay shingles, and cedar shake are designed to insulate and protect your Ohio home while sometimes adding particular character and curb appeal, but the very designs of most roofing materials makes them prone to damage and destruction from high psi pressure washing. The Asphalt Roofing Manufacturers Association specifically recommends "low-pressure bleach or detergent assisted washing" for effectively cleaning asphalt roofs without shingle damage.
In addition to eliminating unwanted growths, roof cleaning also allows for the removal of debris that accumulates on or around roof tiles such as leaves, twigs, and seeds. Our Roof cleaning services also address the damage caused by acid rain, air pollutants, smoke, and exhaust fumes by getting rid of the residue.
Quick, affordable roof cleaning is the smart way to avoid time-consuming and expensive roof replacements. No matter the size, shape or composition of your roof, our team of soft washing pros have the proper cleansing agents for each specific material of your roof, and the know-how to properly take care of your roof and extend the life of that substantial investment.
Articles & Tips
Keeping a Roof Over Your Head

You probably don't think about your roof a whole lot, but it is probably the most functional part of your home, and when there are problems, they're likely to be expensive ones. You'll want to get th […]

Factors to Consider When Buying a Pressure Washing Machine

Shopping for a pressure washing machine presents an almost infinite number of options and choices. A Google search for "pressure washing machine" will give you over 100,000,000 results. It's downrigh […]
Schedule a Free Quote Today With the Most Trusted Pressure Washing Company in the Columbus Area