Trust the Columbus Area's Top House Washing Team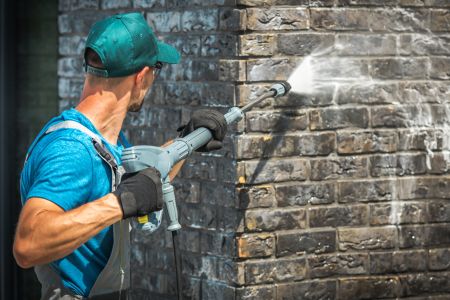 House washing might sound like a simple chore but remember that DIY also stands for Don't Injure Yourself, and hiring an amateur instead of a professional can lead to costly mistakes and possible damage to your Columbus property. While there most certainly may be a need to cleanse your home's exteriors of dirt, stains, mold, mildew and lots more, there is absolutely no reason for you to risk life and limb testing your balance on ladders and scaffolds when you can affordably hire the leaders of pressure washing for Columbus. Plus, DIY house washing and pressure washing results will almost certainly be well below your expectations without the proper tools, training and technique.
Inexperienced pressure washers and friends with rented pressure washing machines simply don't have the experience to recognize the potential damage they can cause to your home's siding. Aside from the obvious problems when overly-pressurized methods rip siding right off the structure, or leave cuts and scars in siding material, the danger of pressurized water invisibly penetrating between seams and seals is serious. Such mistakes can soak insulation and drywall and cause expensive mold problems months later.
When it comes to your Columbus home's vinyl or wood siding, don't take a chance on non-professional house washing; trust the pros at Ohio House Washing to achieve your home's best possible appearance with maximum TLC.
Kill Fungus With a Good House Washing
Our house washing process does an especially impressive job of killing bacteria, fungus, algae, mold, and mildew that love to attack your vinyl and wooden siding. Our soft wash solutions destroy these dangerous organisms and dissolve dirt and stains, which are then easily removed with low-pressure or no-pressure washing.
It's always best to seek out professionals for certain jobs like house washing. And to top it off, Ohio House Washing offers the area's highest-rated roof cleaning service, featuring our expert low pressure and no pressure soft washing that won't damage your shingles, remove protective granules and coatings, or adversely affect your landscaping and foliage.
Articles & Tips
Keeping a Roof Over Your Head

You probably don't think about your roof a whole lot, but it is probably the most functional part of your home, and when there are problems, they're likely to be expensive ones. You'll want to get th […]

Factors to Consider When Buying a Pressure Washing Machine

Shopping for a pressure washing machine presents an almost infinite number of options and choices. A Google search for "pressure washing machine" will give you over 100,000,000 results. It's downrigh […]
Schedule a Free Quote Today With the Most Trusted Pressure Washing Company in the Columbus Area