We Offer Gutter Cleaning for Your Columbus Home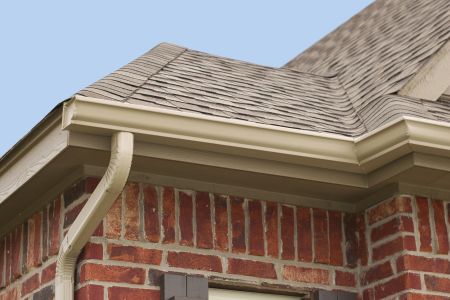 If you're looking for a Columbus pressure washing professional for gutter cleaning services in the Central Ohio area, you can't go wrong with Ohio House Washing. Gutter cleaning is important to the overall health of your Columbus property because gutters divert water off of your roof and away from your foundation, driveway, and landscaping.
Gutters are extremely important to maintaining the structural stability and functioning of your home. Installed in the roofing, the gutter collects the water that accumulates after rain, and disposes of it efficiently to prevent flooding. Just how other parts of your residential structure are prone to damage and deterioration, however, so are home's gutters installed. If left unattended for too long, they may begin to experience structural weakness and instability. Non-flowing or obstructed gutters can cause leaks in your roof that can result in dangerous and expensive-to-fix mold infestations and can erode and cause cracks in your home's foundation and driveway that can be incredibly costly to repair. So it's important to include gutter cleaning in your home maintenance plan.
If you've noticed a blockage in your Columbus home's gutters, it's time to call the soft wash gutter cleaning professionals at Ohio House Washing who have the necessary tools and training to deal with the problem adequately.
Stay Healthy With Bi-Annual Gutter Cleaning
The National Center for Healthy Housing recommends homeowners have their gutters cleaned twice per year. In fact, an annually scheduled exterior cleaning including pressure washing, house washing, roof, and driveway cleaning, along with gutter cleaning is the smart property owners' best weapon in the war against nature's 24/7 attack on your property's outdoor surfaces.
Around springtime, issues can accumulate around gutters that remain filled with twigs and backed up rainwater. Vermin, mosquitoes, and other insects will try to make your gutters their home as the winter frost thaws. On top of the possible risk of roof damage, you might find yourself with a bug and rodent problem when gutters are not cleaned. The small investment in preventive maintenance of gutter cleaning goes a long way.
Our highly experienced staff is trained to deal with all kinds of gutter blockages and related problems, and will thoroughly clean out the gutters to remove any residue or debris that may have accumulated. We offer budget-friendly home cleaning solutions to residents in Columbus, making the process much easier for them. In fact, if you're a veteran or a first responder, we also offer a 10% discount on our services.
Articles & Tips
Keeping a Roof Over Your Head

You probably don't think about your roof a whole lot, but it is probably the most functional part of your home, and when there are problems, they're likely to be expensive ones. You'll want to get th […]

Factors to Consider When Buying a Pressure Washing Machine

Shopping for a pressure washing machine presents an almost infinite number of options and choices. A Google search for "pressure washing machine" will give you over 100,000,000 results. It's downrigh […]
Schedule a Free Quote Today With the Most Trusted Pressure Washing Company in the Columbus Area