Your Local Pressure Washing Company in Pataskala, OH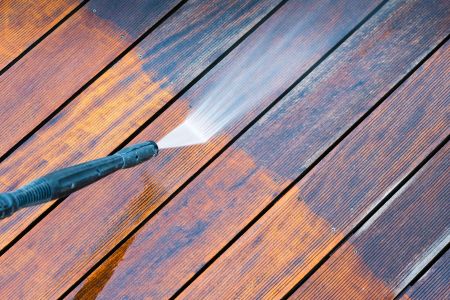 We all understand how important it is to our health to keep surfaces clean and sanitized nowadays, and that includes the outside of your Pataskala home, your roof, driveway and deck. Pressure washing unleashes the natural cleansing power of water, and Ohio House Washing is your local expert when it comes to flawless exterior cleaning.
When your old garden hose just won't cut it anymore against the Pataskala mud, dirt, mold, mildew, bacteria, pollen and disease-carrying animal droppings, it's time to call the pressure washing professionals. With the many incredible technological advancements in pressure washing in recent years, it pays to hire a specialist that is up-to-date on the best exterior cleaning techniques and tools for every surface. Ohio House Washing uses the latest high-tech equipment and we're experts on soft washing, the chemically-assisted, low psi method for house washing, roof cleaning, and gutter cleaning that many manufacturers recommend for tenuous building materials.
Think of us as your helpful neighbor with a pressure washer, but with the intense specialized training, surface-specific tools, and precisely focused attitude of a cleaning and sanitizing SWAT team.
Our entire team is committed to fulfilling all of your pressure washing and exterior cleaning needs with courteous, professional service and the best possible results for your Pataskala properties.
We'll treat every inch of your Pataskala property like the important investment of your time and money that it is. Each exterior surface of your property requires different specialized methods to achieve it's ultimate gloss and gleam and Ohio House Washing has the tools and training for:
Brick, Block, Stucco, Metal and Every Type of Home and Building Siding.
Concrete, Asphalt, and Cement Driveways, Patios and Pool Decks.
Wood Fence Cleaning and Deck Restoration.
Roof and Gutter Cleaning.
Trust Ohio House Washing for All of Your Pataskala Pressure Washing Needs
Effective driveway cleaning and paver cleaning require higher-powered pressure washing than most surfaces because they are made of harder, more porous materials like cement and asphalt. Auto fluids and bacteria are able to secure a more stable footing in more porous materials than smoother surfaces like vinyl. Oil is a particularly stubborn stain to remove without the benefits of industrial grade power washing equipment, and also poses serious slip and fall danger to you and your visitors. Which is why it is important to make sure you hire a locally trusted pressure washing professional, like Ohio House Washing for your next driveway, paver, or pool deck cleaning job.
Our Professional House Washing Will Make Your Home The Pride Of Pataskala
Mold, mildew, fungus, algae, moss, pollen are all living organisms that can slowly eat away at roofing, siding and other surfaces and cause permanent damage to your Pataskala home or building, requiring expensive replacements. High-humidity generates the growth of these types of destructive organisms, they take root in porous surfaces and the stains they leave are especially stubborn and hard to eradicate. Pressure washing and soft wash house washing are powerful weapons in your property's constant defense against the many forces of nature.
Reviews & Testimonials on Ohio House Washing in Pataskala, Ohio
There are currently no reviews or testimonials for Pataskala, Ohio. Check back soon!
Articles & Tips
Keeping a Roof Over Your Head

You probably don't think about your roof a whole lot, but it is probably the most functional part of your home, and when there are problems, they're likely to be expensive ones. You'll want to get th […]

Factors to Consider When Buying a Pressure Washing Machine

Shopping for a pressure washing machine presents an almost infinite number of options and choices. A Google search for "pressure washing machine" will give you over 100,000,000 results. It's downrigh […]
Schedule a Free Quote Today With the Most Trusted Pressure Washing Company in the Columbus Area