Your Local Pressure Washing Company in Grove City, OH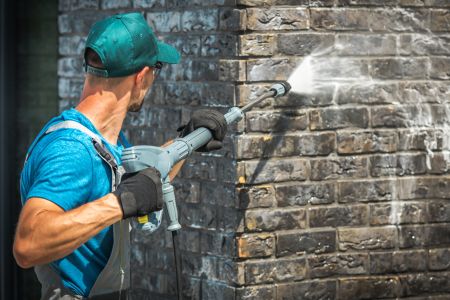 Home and property values in Grove City are rising and your house and land represent a huge investment of your money and your valuable time. One of the cheapest, easiest and fastest ways to protect your investment and grow your property value is with professional pressure washing from a trusted, reputable pressure washing contractor with a history of satisfied Grove City clients. For astounding exterior transformations that boost curb appeal, at affordable prices, you can't beat Ohio House Washing, Grove City's pressure washing and soft washing authority.
Less than ten miles from the vibrant food, art, and history of Columbus, Grove City living offers the best of both worlds: tranquil suburban simplicity with easy access to big city amenities and attractions. Grove City is a great place to live and Ohio House Washing is dedicated to making it even better by providing the highest quality exterior cleaning services to every home we serve and leaving them all sparkling like diamonds.
The pressure washing and soft washing professionals at Ohio House Washing are masters of increasing curb appeal and can add value to your beautiful Grove City home.
Professional pressure washing can eliminate mold and mildew, and protect your home from germs, allergens and disease-carrying animal droppings. And if your Grove City property is looking a little rough around the edges, Ohio House Washing can help with our soft wash fence cleaning service. Our fence cleaning experts can completely remove rust from wrought iron fences and gates with the overwhelming power of high-pressure water, and we're equally efficient in sprucing up wooden fences with chemically aided soft washing that won't scar your fence.
Ohio House Washing Is Grove City's Premier Pressure Washing Provider
Pressure washing can be used to clean several outdoor surfaces. Whether you're interested in driveway cleaning or want the sandstone and tiles lining your walls to be thoroughly cleaned, pressure washing is the way to go. This form of house cleaning allows for your home to be maintained, and also prepares the surfaces for further renovations and repair work that may need to be done. Using the best cleaning tools and equipment, we remove stains from patios, driveways, walkways, and other hard surfaces on your Grove City Property. This helps in restoring its appearance and making your house stand out in the neighborhood.
We Offer Grove City's Homeowners Soft Wash House Washing
When it comes to dirt, grime, and stains on your home's exteriors, less is more. The fewer blemishes, discolorations, and smudges appearing on your property's facades, the more your Grove City home or rental property shines, and the more your property values rise. We use the latest, high-tech equipment and methods, including soft washing, low-pressure, and no-pressure washing to run the full gamut of available exterior cleaning possibilities. Ohio House Washing offers you more value, better results, and ultimate satisfaction.
Reviews & Testimonials on Ohio House Washing in Grove City, Ohio
There are currently no reviews or testimonials for Grove City, Ohio. Check back soon!
Articles & Tips
Keeping a Roof Over Your Head

You probably don't think about your roof a whole lot, but it is probably the most functional part of your home, and when there are problems, they're likely to be expensive ones. You'll want to get th […]

Factors to Consider When Buying a Pressure Washing Machine

Shopping for a pressure washing machine presents an almost infinite number of options and choices. A Google search for "pressure washing machine" will give you over 100,000,000 results. It's downrigh […]
Schedule a Free Quote Today With the Most Trusted Pressure Washing Company in the Columbus Area