Avoiding Pressure Washing Missteps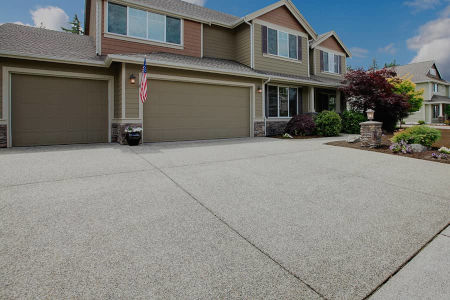 Truly transformational pressure washing is both a science and an art: the science of using pressurized water and chemistry, and the art comes in the skills and attention-to-detail of experienced professional pressure washers. Sometimes it's better to hire a specialist for certain home maintenance chores, and as one learns more about pressure washing and soft washing it soon becomes obvious that hiring a pressure washing pro is usually the best decision.
The best way to avoid pressure washing mistakes is to hire the pros at Ohio House Washing, but if you're determined to DIY, here are a few common pressure washing missteps.
H2O Only
Some stains and organic growths require a little more help in the form of chemical assistance, especially on surfaces like vinyl siding and roof shingles. Pre-treating and pre-soaking with cleaning solutions, chemical solvents, and natural mineral acids help to dissolve dirt and gunk and kill natural organisms like mold and fungus. This also reduces the amount of water used and so lessens the danger of water saturation that can itself lead to leaks and mold growth.
Too High PSI
Professional pressure washers know that too much pressure can damage certain surfaces and that soft washing is the preferred cleaning method for house washing,roof cleaning, and gutter cleaning. Too much pressure can break windows, damage plants, and landscaping, strip paint, leave scars and etch marks on concrete and wood, and completely remove shingles and siding from structures. Soft washing really separates the pros from the amateurs as the mixing of cleaning chemicals is involved, and that really should be handled by an experienced professional.
The Right Tools
Every type of exterior surface requires its own specialized treatment for the best cleaning results. Just having the right tools for different surfaces knocks most DIYers and non-professionals out of the running. If you're in the market to buy or rent pressure washing equipment you may be in for a shock. Just google "pressure washing equipment" and you will get millions of results. You could be shopping for a while. Take into account that knowledge and practice count for a whole lot in pressure washing and you'll soon realize it's smarter and more economical to hire a professional.
Cleaning Order
DIY and less experienced pressure washers sometimes make the common mistake of cleaning out of order which often forces them to go back and re-clean certain surfaces. For instance, you clean your driveway, then your roof and everything from your roof falls on your newly cleaned driveway. Here is the most efficient cleaning order:
Roof
House
Flat Grounded Surfaces
Windows
Articles & Tips
Keeping a Roof Over Your Head

You probably don't think about your roof a whole lot, but it is probably the most functional part of your home, and when there are problems, they're likely to be expensive ones. You'll want to get th […]

Factors to Consider When Buying a Pressure Washing Machine

Shopping for a pressure washing machine presents an almost infinite number of options and choices. A Google search for "pressure washing machine" will give you over 100,000,000 results. It's downrigh […]
Schedule a Free Quote Today With the Most Trusted Pressure Washing Company in the Columbus Area